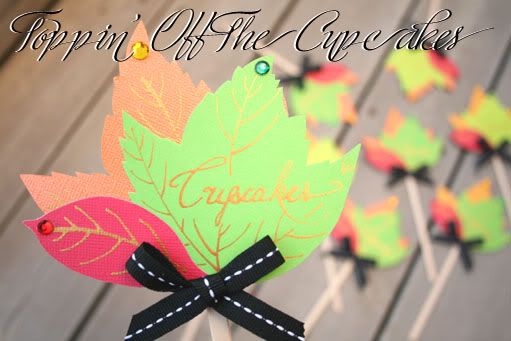 Oh my, I've been feeling crafty lately! I know, I know, two projects in one week...wild stuff going on over here! A couple weeks ago, I threw out the idea of making fall cupcake toppers to match
these place cards
. Well, I ended up making a few tweaks, but it's essentially the same idea. I wanted to create something fun and festive with a little pop, and I think the contrasting
black and white ribbon
does just that.
When I put as much time into crafting something, as I did with these little guys, I like to use materials that can be used several times over, so for these cupcake toppers, I used
wooden sticks,
so that they could be used for many parties over. You can also use these handy
lollipop sticks
by Wilton. Both are inexpensive options and have many other crafty uses.
I cut each leaf by hand, so I admit this project took me a little longer than anticipated. However, I made them as a "belated" birthday gift for a lovely blogger friend of mine who I know will put them to good use, so I wanted them to be just right. I'm shipping them off tomorrow to surprise her (unless she reads this post first and puts two and two together...)
Which is a good possibility. :-)
What do you think? What kind of place cards, cupcake toppers or craft project would you like to see me design? Have a happy day, friends!
Ciao!
Pssst....If you're wondering about these random late night posts, I must explain...my full-time job (not calligraphy) has me neck deep in work right now, which is a great thing, but it just means that I haven't been left with as much time as I would like to respond to all of your wonderful comments, but please know that I truly appreciate each and every one, and I will catch up soon!! Hugs :)