Happy Wednesday, gang! Today, I am uber excited to introduce
City Cradle Design
to those of you who have yet to meet Vicky, the creator of this fabulous blog. Last week Vicky contacted me about creating a
DIY tutorial
for the
mini cake topper bunting
I made for a party designed by
Eat Drink Pretty
. I was happy to oblige, and I've included the steps here as well for your crafting pleasure. Yahoo!
I am just so honored whenever someone likes one of my "crafty-crafties" enough to share with their own blog audience, so please be sure to stop by and check out beautiful
her blog
today.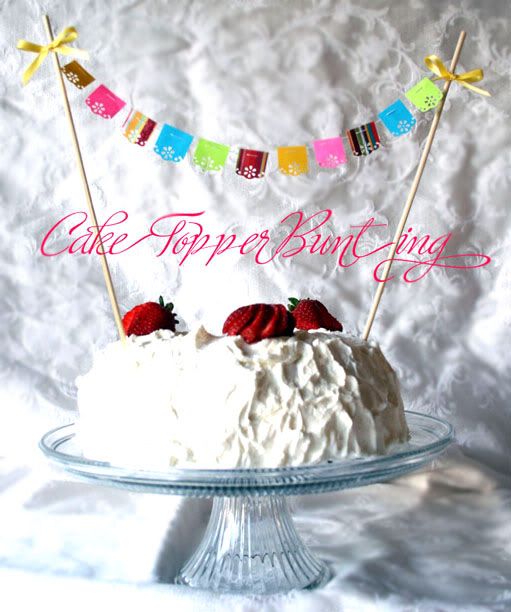 And
for my own archives, here's another breakdown for all of my peeps here on the "how to" behind this super easy project, in 5 easy steps, no less! That totally sounded like an infomercial, didn't it? Gosh, infomercials are hilarious (but "catchy", yes??)...
and...
once again, I digress. Okay, here we go...
Supplies
1. Color or scrapbook paper
2.
Paper cutter
and/or good scissors
3. Dye cut paper punch in a pattern of your choice (
my favorite
)
4.
2 wooden skewer sticks
5. White thread
6. Needle
7.
Hot glue gun
8. Your favorite color ribbon
Do It Yourself
Step 1: Punch each sheet of color paper with the dye cut paper punch and cut out mini flags with the pattern as the bottom of the flag.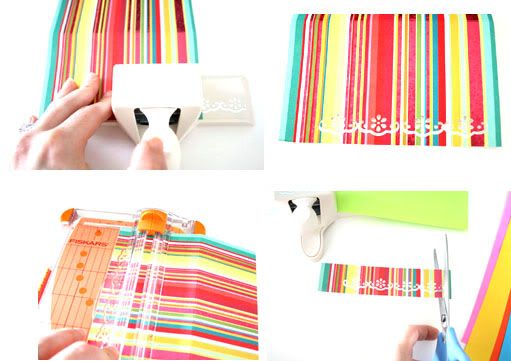 Step 2: Double thread the needle with white string to make the stitch more prominent.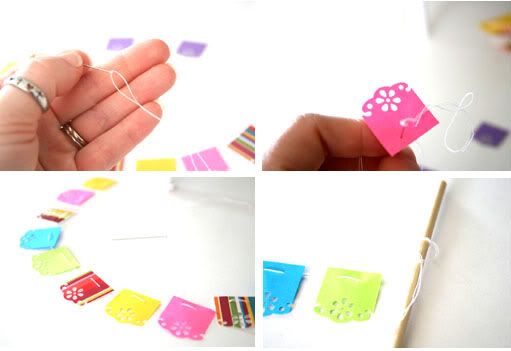 Step 3: Once you have the flags strung and placed however far apart you would like them, tie each end of the string around a skewer stick.
Step 4: Take the ribbon and tie into two small bows.
Step 5: With your glue gun, glue each bow on top of where you tied the thread. This will hold the thread on the stick as well as hide the knot.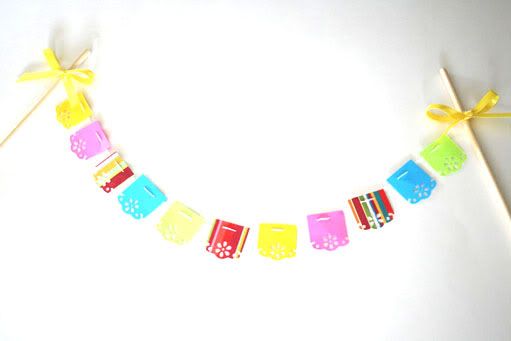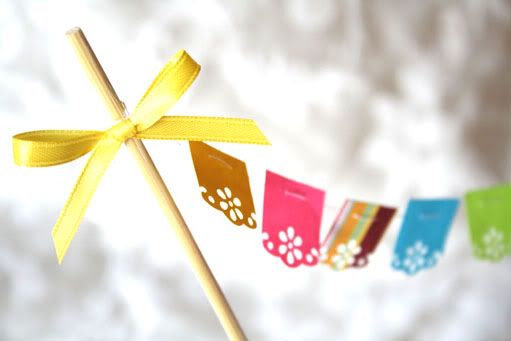 AND, you're finished. I told you it was easy....now, it's time for the cake!
Ciao!